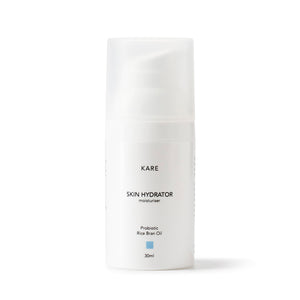 [Improved Formula]
With Saccharide Isomerate, a plant-derived hydrator cum prebiotic, this hydrating emulsion provides 72 hours of deep hydration and balances the skin microbiome. It contains prebiotic, a natural food source for probiotics, thus increasing skin microflora. Significantly boost skin hydration within 3 hours and restore ultimate hydration on your face in 28 days. Youthful, plump, radiant skin awaits you.
Hyper Hyaluronic Matrix
Consists of 4 hyaluronic acids and forms a 3D matrix that provides hydration to the different skin layers. The 4 hyaluronic acids are Sodium Hyaluronate, Hydrolyzed Hyaluronic Acid, Sodium Acetylated Hyaluronate and Hydroxypropyltrimonium Hyaluronate
Polyglutamic Acid
Derived from fermented soybean mucilage and has a larger molecule that allows a thin film to form on the skin surface, preventing water loss. It increases the production of natural moisturizing factors on the skin's surface to improve hydration. Having the capability to absorb water up to 5000 times of its own weight, it has a better moisturizing effect than hyaluronic acid (1000 times). It is effective in preventing skin diseases such as atopic skin generation. It is also a hyaluronidase inhibitor to relieve inflammation, improve symptoms of atopy to maintain immune system balance.
Lactobacillus/Collagen/Mesembryanthemum Crystallinum Leaf Extract Ferment Lysate
This probiotic extract with collagen is fermented from ice plant, which is native to South Africa's Namib Desert. As a succulent, the plant grows slowly and accumulates moisture and components absorbed by the bladder cells of the stem and leaf, showing excellent moisturizing effect. It is said to have superior anti- wrinkle effect as compared to common ferment filtrate.
Saccharide Isomerate
Naturally derived from vegetable maize kernels. Binding to keratin, it helps to boost NMF, hyaluronan and ceramides to protects urban skin and strengthen skin barrier. It provides 72 hours long-lasting deep hydration, significantly boosting hydration in dry skin within 3 hours and achieving ultimate hydration to all facial areas in 28 days. Hence, reversing 5 major symptoms of dehydrated skin: roughness, dullness, flakiness, tightness, redness. It also acts as a prebiotic, a natural food source for probiotics, increasing skin microflora.
Cera-Protect
A lipid with high emollience that helps form, restore and maintain the skin barrier. It also protects skin against environmental aggressors and prevents moisture. When mixed together, this active is ideal for improving skin tone, skin texture, skin elasticity and relieving signs of sensitivity. It is especially effective for people with eczema, dry and flaky skin.
Key Benefits
72 hours long-lasting deep hydration

Balance skin microbiome

Repairs and protect the skin barrier

Stimulate and boost collagen production

Reduce the appearance of fine lines and wrinkles

Leave skin hydrated, smooth, radiant, refined and supple
Size / Country
30ml Airless Pump. Made in Singapore
User Testimonial
See more reviews left for us in Google
How to use
Apply evenly on clean face and neck. Suitable for day and night use.
Ingredients
Aqua, Lactobacillus/Collagen/Mesembryanthemum Crystallinum Leaf Extract Ferment Lysate, PPG-3 Benzyl Ether Myristate, Propanediol, Oryza Sativa (Rice) Bran Oil, Squalane, Glyceryl Glucoside, Limnanthes Alba (Meadowfoam) Seed Oil, Saccharide Isomerate, Simmondsia Chinensis (Jojoba) Seed Oil, Laureth-7, Shea Butter, Sodium Polyacrylate, Butylene Glycol, Cetostearyl Alcohol, Trehalose, Polyglutamic Acid, Caprylic/Capric Triglyceride, Propylene Glycol, Sorbitan Monostearate, Glycerin, Hydroxypropyl Bisstearamide MEA, 1,2-Hexanediol, Cucumis Sativus (Cucumber) Fruit Extract, Tri-PPG-3 Myristyl Ether Citrate, Ethylhexylglycerin, Behenyl Alcohol, Trideceth-6, Phenoxyethanol, Dipropylene Glycol, Sodium Hyaluronate, Ceteareth-20, Hydrolyzed Hyaluronic Acid, Ethylhexylglycerin, Hydroxypropyltrimonium Hyaluronate, Sodium Acetylated Hyaluronate, Cholesteryl Isostearate, Cholesterol, Neopentyl Glycol Dicarprate, Citric Acid, Sodium Citrate
Contraindications / Cautions 
Do not use it on an open wound. Discontinue if irritations or rashes occur. Keep out of the reach of children.
Storage
Store in a cool, dry place. Avoid direct light and heat. Keep container closed after use. Discard 6 months after opening